About Us
Wok This Way is a Chinese takeaway in Grantham. Why don't you try our Pork Chop Suey or Chicken Satay?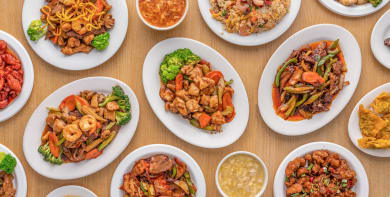 Reviews
349 reviews
Stephen
"Delicious food, ready to collect on time. Will call again next time we are in the area."
22/07/2021
Lynne
"First time i have ordered in advance for a timed delivery for just after i got home from work. Food was on time & hot. Will definitely order again. Thank you"
21/07/2021
Andrew
"Outstanding food every time 😊😊"
16/07/2021
Jane
"Another great takeaway from Wok This Way, piping hot food, delivered on time."
13/07/2021
Menu
Chicken & Sweet Corn Soup
£2.80
Crab Meat & Sweet Corn Soup
£2.80
Mini Vegetarian Spring Rolls (8)
Vegetarian
£3.50
Sesame Prawn on Toast (8)
£5.00
King Prawn Rolls Thai Style (6)
£5.00
Crispy Prawn Wonton (8)
With sweet & sour sauce
£4.80
Crispy Seaweed
Vegetarian
£3.80
Satay Chicken Skewers (6)
With spicy peanuts sauce
£5.20
Quarter Crispy Aromatic Duck
10 Pancakes
£8.30
Half Crispy Aromatic Duck
20 Pancakes
£15.80
Crispy Aromatic Lamb
10 Pancakes
£8.30
Mixed Appetiser A
Sweet & sour sauce included
Mini spring rolls (3), dry spare ribs (2), smoked shredded chicken & seaweed
£7.00
Mixed Appetiser B
Sweet & sour sauce included
Sesame prawn toast (2), salt & chilli chicken wings (2), deep fried won ton (3) & seaweed
£7.00
Spare Ribs with Barbecue Sauce
£5.60
Spare Ribs with Salt & Chilli
Hot
£5.60
Spare Ribs with Honey Sauce
£5.60
Chicken Wings with Salt & Chilli
Hot
£5.20
Chicken Wings with Cantonese Sauce
£5.20
Chicken Wings with Szechuan Sauce
Hot
£5.20
Chicken Wings with Thai Style Sweet Chilli Sauce
Hot
£5.20
Chicken Wings with Barbecue Sauce
£5.20
Sweet & Sour Chicken Balls (12)
£5.50
Sweet & Sour Pork Balls (12)
£5.50
Sweet & Sour King Prawn Balls (10)
£6.00
Hong Kong Style Sweet & Sour Chicken
£5.50
Hong Kong Style Sweet & Sour Pork
£5.50
Hong Kong Style Sweet & Sour King Prawn
£6.00
Hong Kong Style Sweet & Sour Mixed Vegetables
Vegetarian
£4.60
Hong Kong Style Sweet & Sour Spare Ribs
£5.60
Special Curry
Beef, chicken & pork
£5.50
Mixed Vegetable Curry
Vegetarian
£4.80
Mushroom Curry
Vegetarian
£4.80
House Special Fried Rice
King prawn, beef, chicken & pork
£6.00
Yung Chow Fried Rice
Chicken, pork & shrimp
£5.00
Mushroom Fried Rice
Vegetarian
£4.20
Pineapple Fried Rice
Vegetarian
£4.20
Egg Fried Rice
Small
Vegetarian
£2.80
Steamed Rice
Small
Vegetarian
£2.50
Mixed Vegetable Fried Rice
Vegetarian
£4.30
Singapore Fried Rice Style
Hot
£5.00
House Special Chow Mein
King prawn, beef, chicken & pork
£6.00
Yung Chow Chow Mein
Chicken, pork & shrimp
£5.20
Mushroom Chow Mein
Vegetarian
£4.80
Beansprout Chow Mein
Vegetarian
£4.30
Mixed Vegetable Chow Mein
Vegetarian
£4.80
Plain Chow Mein
Vegetarian
£4.30
Vegetarian Singapore Chow Mein
Hot
Vegetarian
£5.00
Singapore Rice Noodle
Hot
£5.80
King Prawn with Cashew Nuts
£6.00
King Prawn with Bamboo Shoots & Water Chestnuts
£5.80
King Prawn with Mushrooms
£5.80
King Prawn with Oyster Sauce
£5.80
King Prawn with Salt & Chilli
Hot
£5.80
King Prawn Kung Po Style
Hot
£6.00
King Prawn Szechuan Style
Hot
£5.80
King Prawn with Thai Style Sweet Chilli Sauce
Hot
£6.00
King Prawn with Green Pepper & Black Bean Sauce
£5.80
King Prawn with Ginger & Spring Onions
£5.80
Squid with Salt & Chilli
Hot
£6.00
Squid with Thai Style Sweet Chilli Sauce
Hot
£6.00
Squid with Satay Sauce
Hot
£5.80
Squid with Green Pepper & Black Bean Sauce
£5.80
Squid with Ginger & Spring Onions
£5.80
Chicken with Bamboo Shoots & Water Chestnuts
£5.10
Chicken with Oyster Sauce
£5.10
Chicken with Fresh Lemon Sauce
£5.30
Chicken Kung Po Style
Hot
£5.30
Chicken Szechuan Style
Hot
£5.10
Chicken with Green Pepper & Black Bean Sauce
£5.10
Chicken with Ginger & Spring Onions
£5.10
Chicken with Thai Style Sweet Chilli Sauce
Hot
£5.30
Beef with Bamboo Shoots & Water Chestnuts
£5.10
Beef with Green Pepper & Black Bean Sauce
£5.10
Beef with Ginger & Spring Onions
£5.10
Crispy Shredded Chilli Beef
Hot
£5.50
Roast Pork with Cashew Nuts
£5.30
Roast Pork with Bamboo Shoots & Water Chestnuts
£5.10
Roast Pork with Mushrooms
£5.10
Roast Pork with Oyster Sauce
£5.10
Roast Pork Kung Po Style
Hot
£5.10
Roast Pork Szechuan Style
Hot
£5.10
Roast Pork with Green Pepper & Black Bean Sauce
£5.10
Roast Pork with Honey & Soya Sauce
£5.10
Roast Duck with Pineapple
£6.00
Roast Duck with Orange Sauce
£6.00
Roast Duck with Plum Sauce
£6.00
Roast Duck with Green Pepper in Black Bean Sauce
£6.00
Roast Duck with Ginger & Spring Onion
£6.00
Roast Duck with Mixed Vegetable
£6.00
Roast Duck Chinese Style (BBQ Sauce)
£6.00
Lamb with Green Peppers & Black Bean Sauce
£6.00
Lamb with Ginger & Spring Onion
£6.00
Lamb with Mixed Vegetable
£6.00
Special Egg Foo Yung
Chicken, pork & shrimp
£5.20
Mushroom Egg Foo Yung
Vegetarian
£4.80
House Special Chop Suey
Beef, chicken & pork
£5.20
Thai Yellow Curry Beef
Hot
£5.60
Thai Yellow Curry Chicken
Hot
£5.60
Thai Yellow Curry King Prawn
Hot
£5.60
Thai Red Curry Chicken
Hot
£5.60
Thai Red Curry King Prawn
Hot
£5.60
Thai Green Curry Beef
Hot
£5.60
Thai Green Curry Chicken
Hot
£5.60
Thai Green Curry King Prawn
Hot
£5.60
Sirloin Steak
With mushrooms, onions & black pepper sauce
£10.00
Roast Chicken
With mushrooms, onions & barbecue sauce
£6.50
Special Omelette
Chicken, pork & shrimp
£5.80
Mushroom Omelette
Vegetarian
£5.50
Plain Omelette
Vegetarian
£5.20
Fried Muhsroom
Vegetarian
£4.20
Fried Bean Sprouts
Vegetarian
£4.00
Fried Mixed Vegetables
Vegetarian
£4.20
Fried Mixed Vegetable with Black Bean Sauce
Vegetarian
£4.20
Fried Mixed Vegetable with Szechuan Sauce
Hot
Vegetarian
£4.20
Fried Mixed Vegetable with Satay Sauce
Hot
Vegetarian
£4.20
Fried Bamboo Shoots & Water Chestnuts
Vegetarian
£4.00
Vegetarian Chicken
Vegetarian
£5.30
Chips with Sauce Sweet & Sour
£3.00
Wok This Way House Special Dish
King prawn, beef, chicken, roast pork with Chinese vegetables
£5.80
Golden Crispy Duck & Roast Pork
With Chinese vegetables
£6.00
Spicy Mongolian Chicken
Hot
£5.20
Chicken Chinese Style
Chicken breast slice & plain bean sprout with BBQ sauce
£5.50
Pineapple Fritter in Syrup
£2.80
Set Meal A for One Person
Crispy pancake roll
Sweet & sour chicken balls (4)
Beef with mushrooms
Egg fried rice
Prawn crackers
£9.80
Set Meal B for Two Persons
Sweet & sour chicken balls (8)
Chicken with mushrooms
Beef with green pepper & black bean sauce
Egg fried rice (2)
Prawn crackers
£17.80
Set Meal C for Three Persons
Crispy pancake rolls (3)
Satay chicken skewers (6)
Chicken with fresh lemon sauce
Beef with green pepper & black bean sauce
Sweet & sour chicken Hong Kong style
Roast pork chop suey
Egg fried rice (3)
Prawn crackers
£36.80
Set Meal D for Four Persons
Crispy seaweed
Aromatic crispy duck (quarter)
King prawn with green pepper & black bean sauce
Chicken Cantonese style
Beef with ginger & spring onions
Duck with orange sauce
Pork with mushrooms
Egg fried rice (4)
Prawn crackers
£46.80
Set Meal E for Five Persons
Mini vegetarian spring rolls (10)
Satay chicken skewers (5)
Spare ribs Peking style
Sweet & sour chicken Hong Kong style
House special chow mein
Fried mixed vegetables
Special curry
Beef with ginger & spring onions
Chicken with cashew nuts
Egg fried rice (5)
Prawn crackers                                              
£56.80
Contact Us
Find Us
29-31 Watergate, Grantham, NG316NS
We deliver to
NG31, NG32, NG33