About Us
Wok This Way is a Chinese takeaway in Grantham. Why don't you try our Pork Chop Suey or Chicken Satay?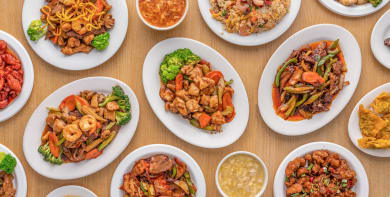 Reviews
347 reviews
Kaylee
"Food was lovely! One portion of noodles fed 3 people and one portion of rice could feed about 4-5 people! Prawn toast beautiful as always"
06/05/2021
Anita
"Crispy Duck and pancakes excellent as always"
03/05/2021
phillip
"Perfect"
03/05/2021
Neil
"excellent, always great food"
02/05/2021
Menu
Chicken & Sweet Corn Soup
£2.80
Crab Meat & Sweet Corn Soup
£2.80
Mini Vegetarian Spring Rolls (8)
Vegetarian
£3.50
Sesame Prawn on Toast (8)
£5.00
King Prawn Rolls Thai Style (6)
£5.00
Crispy Prawn Wonton (8)
With sweet & sour sauce
£4.80
Crispy Seaweed
Vegetarian
£3.80
Satay Chicken Skewers (6)
With spicy peanuts sauce
£5.20
Quarter Crispy Aromatic Duck
10 Pancakes
£8.30
Half Crispy Aromatic Duck
20 Pancakes
£15.80
Crispy Aromatic Lamb
10 Pancakes
£8.30
Mixed Appetiser A
Sweet & sour sauce included
Mini spring rolls (3), dry spare ribs (2), smoked shredded chicken & seaweed
£7.00
Mixed Appetiser B
Sweet & sour sauce included
Sesame prawn toast (2), salt & chilli chicken wings (2), deep fried won ton (3) & seaweed
£7.00
Spare Ribs with Barbecue Sauce
£5.60
Spare Ribs with Salt & Chilli
Hot
£5.60
Spare Ribs with Honey Sauce
£5.60
Chicken Wings with Salt & Chilli
Hot
£5.20
Chicken Wings with Cantonese Sauce
£5.20
Chicken Wings with Szechuan Sauce
Hot
£5.20
Chicken Wings with Thai Style Sweet Chilli Sauce
Hot
£5.20
Chicken Wings with Barbecue Sauce
£5.20
Sweet & Sour Chicken Balls (12)
£5.50
Sweet & Sour Pork Balls (12)
£5.50
Sweet & Sour King Prawn Balls (10)
£6.00
Hong Kong Style Sweet & Sour Chicken
£5.50
Hong Kong Style Sweet & Sour Pork
£5.50
Hong Kong Style Sweet & Sour King Prawn
£6.00
Hong Kong Style Sweet & Sour Mixed Vegetables
Vegetarian
£4.60
Hong Kong Style Sweet & Sour Spare Ribs
£5.60
Special Curry
Beef, chicken & pork
£5.50
Mixed Vegetable Curry
Vegetarian
£4.80
Mushroom Curry
Vegetarian
£4.80
House Special Fried Rice
King prawn, beef, chicken & pork
£6.00
Yung Chow Fried Rice
Chicken, pork & shrimp
£5.00
Mushroom Fried Rice
Vegetarian
£4.20
Pineapple Fried Rice
Vegetarian
£4.20
Egg Fried Rice
Small
Vegetarian
£2.80
Steamed Rice
Small
Vegetarian
£2.50
Mixed Vegetable Fried Rice
Vegetarian
£4.30
Singapore Fried Rice Style
Hot
£5.00
House Special Chow Mein
King prawn, beef, chicken & pork
£6.00
Yung Chow Chow Mein
Chicken, pork & shrimp
£5.20
Mushroom Chow Mein
Vegetarian
£4.80
Beansprout Chow Mein
Vegetarian
£4.30
Mixed Vegetable Chow Mein
Vegetarian
£4.80
Plain Chow Mein
Vegetarian
£4.30
Vegetarian Singapore Chow Mein
Hot
Vegetarian
£5.00
Singapore Rice Noodle
Hot
£5.80
King Prawn with Cashew Nuts
£6.00
King Prawn with Bamboo Shoots & Water Chestnuts
£5.80
King Prawn with Mushrooms
£5.80
King Prawn with Oyster Sauce
£5.80
King Prawn with Salt & Chilli
Hot
£5.80
King Prawn Kung Po Style
Hot
£6.00
King Prawn Szechuan Style
Hot
£5.80
King Prawn with Thai Style Sweet Chilli Sauce
Hot
£6.00
King Prawn with Green Pepper & Black Bean Sauce
£5.80
King Prawn with Ginger & Spring Onions
£5.80
Squid with Salt & Chilli
Hot
£6.00
Squid with Thai Style Sweet Chilli Sauce
Hot
£6.00
Squid with Satay Sauce
Hot
£5.80
Squid with Green Pepper & Black Bean Sauce
£5.80
Squid with Ginger & Spring Onions
£5.80
Chicken with Bamboo Shoots & Water Chestnuts
£5.10
Chicken with Oyster Sauce
£5.10
Chicken with Fresh Lemon Sauce
£5.30
Chicken Kung Po Style
Hot
£5.30
Chicken Szechuan Style
Hot
£5.10
Chicken with Green Pepper & Black Bean Sauce
£5.10
Chicken with Ginger & Spring Onions
£5.10
Chicken with Thai Style Sweet Chilli Sauce
Hot
£5.30
Beef with Bamboo Shoots & Water Chestnuts
£5.10
Beef with Green Pepper & Black Bean Sauce
£5.10
Beef with Ginger & Spring Onions
£5.10
Crispy Shredded Chilli Beef
Hot
£5.50
Roast Pork with Cashew Nuts
£5.30
Roast Pork with Bamboo Shoots & Water Chestnuts
£5.10
Roast Pork with Mushrooms
£5.10
Roast Pork with Oyster Sauce
£5.10
Roast Pork Kung Po Style
Hot
£5.10
Roast Pork Szechuan Style
Hot
£5.10
Roast Pork with Green Pepper & Black Bean Sauce
£5.10
Roast Pork with Honey & Soya Sauce
£5.10
Roast Duck with Pineapple
£6.00
Roast Duck with Orange Sauce
£6.00
Roast Duck with Plum Sauce
£6.00
Roast Duck with Green Pepper in Black Bean Sauce
£6.00
Roast Duck with Ginger & Spring Onion
£6.00
Roast Duck with Mixed Vegetable
£6.00
Roast Duck Chinese Style (BBQ Sauce)
£6.00
Lamb with Green Peppers & Black Bean Sauce
£6.00
Lamb with Ginger & Spring Onion
£6.00
Lamb with Mixed Vegetable
£6.00
Special Egg Foo Yung
Chicken, pork & shrimp
£5.20
Mushroom Egg Foo Yung
Vegetarian
£4.80
House Special Chop Suey
Beef, chicken & pork
£5.20
Thai Yellow Curry Beef
Hot
£5.60
Thai Yellow Curry Chicken
Hot
£5.60
Thai Yellow Curry King Prawn
Hot
£5.60
Thai Red Curry Chicken
Hot
£5.60
Thai Red Curry King Prawn
Hot
£5.60
Thai Green Curry Beef
Hot
£5.60
Thai Green Curry Chicken
Hot
£5.60
Thai Green Curry King Prawn
Hot
£5.60
Sirloin Steak
With mushrooms, onions & black pepper sauce
£10.00
Roast Chicken
With mushrooms, onions & barbecue sauce
£6.50
Special Omelette
Chicken, pork & shrimp
£5.80
Mushroom Omelette
Vegetarian
£5.50
Plain Omelette
Vegetarian
£5.20
Fried Muhsroom
Vegetarian
£4.20
Fried Bean Sprouts
Vegetarian
£4.00
Fried Mixed Vegetables
Vegetarian
£4.20
Fried Mixed Vegetable with Black Bean Sauce
Vegetarian
£4.20
Fried Mixed Vegetable with Szechuan Sauce
Hot
Vegetarian
£4.20
Fried Mixed Vegetable with Satay Sauce
Hot
Vegetarian
£4.20
Fried Bamboo Shoots & Water Chestnuts
Vegetarian
£4.00
Vegetarian Chicken
Vegetarian
£5.30
Chips with Sauce Sweet & Sour
£3.00
Wok This Way House Special Dish
King prawn, beef, chicken, roast pork with Chinese vegetables
£5.80
Golden Crispy Duck & Roast Pork
With Chinese vegetables
£6.00
Spicy Mongolian Chicken
Hot
£5.20
Chicken Chinese Style
Chicken breast slice & plain bean sprout with BBQ sauce
£5.50
Pineapple Fritter in Syrup
£2.80
Set Meal A for One Person
Crispy pancake roll
Sweet & sour chicken balls (4)
Beef with mushrooms
Egg fried rice
Prawn crackers
£9.80
Set Meal B for Two Persons
Sweet & sour chicken balls (8)
Chicken with mushrooms
Beef with green pepper & black bean sauce
Egg fried rice (2)
Prawn crackers
£17.80
Set Meal C for Three Persons
Crispy pancake rolls (3)
Satay chicken skewers (6)
Chicken with fresh lemon sauce
Beef with green pepper & black bean sauce
Sweet & sour chicken Hong Kong style
Roast pork chop suey
Egg fried rice (3)
Prawn crackers
£36.80
Set Meal D for Four Persons
Crispy seaweed
Aromatic crispy duck (quarter)
King prawn with green pepper & black bean sauce
Chicken Cantonese style
Beef with ginger & spring onions
Duck with orange sauce
Pork with mushrooms
Egg fried rice (4)
Prawn crackers
£46.80
Set Meal E for Five Persons
Mini vegetarian spring rolls (10)
Satay chicken skewers (5)
Spare ribs Peking style
Sweet & sour chicken Hong Kong style
House special chow mein
Fried mixed vegetables
Special curry
Beef with ginger & spring onions
Chicken with cashew nuts
Egg fried rice (5)
Prawn crackers                                              
£56.80
Contact Us
Find Us
29-31 Watergate, Grantham, NG316NS
We deliver to
NG13, NG31, NG32, NG33